Deputy Discharges Weapon During Pursuit with Stolen Vehicle
08/03/2012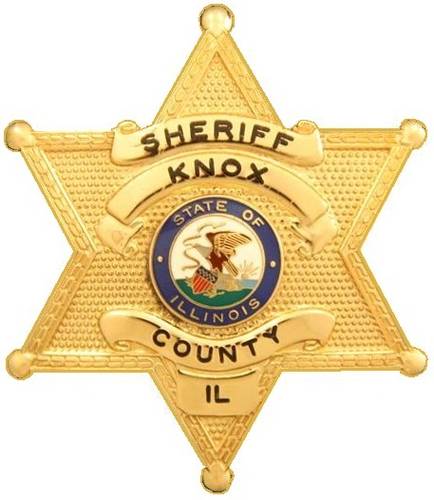 August 3rd, 2012, Friday, at approximately 12:23 A.M., Knox County Sheriff's Deputies were informed of a vehicle pursuit on I-74 (Peoria County) soon to be entering Knox County. The vehicle in question was described as a tan colored 2008 Chevy Equinox which had been reported stolen from Washington, Illinois. Within a short period of time, dispatch advised Deputies that the vehicle was traveling in excess of 100 MPH and the pursuing units had terminated the pursuit.
Knox County Deputies were at the Knox County line on I-74 when the suspect vehicle passed traveling at a high rate of speed. Deputies then engage in a pursuit only to have the suspect vehicle exit I-74 on to the exit ramp at Exit 51 (Knoxville). The Knoxville Police Department had blocked the roadway at the top of the exit ramp and a Knox County Deputy was approaching the suspect vehicle on foot. The suspect vehicle began backing up, the approached the Deputy at which time the Deputy fired his duty weapon at the suspect vehicle. The suspect vehicle then drove forward and turned on to Knox Highway 9, traveling north towards East Galesburg.
Upon entering East Galesburg, the suspect vehicle came upon the Burlington Northern/Santa Fe railroad tracks and turned abruptly on to the tracks. The suspect vehicle came to a stop approximately 75 feet from the roadway. The driver, lone occupant, was taken into custody without incident. Medical personnel arrived and checked for any injuries to the suspect but none were found.
The suspect, Isaiah N. ROYER (DOB: 08/28/1994) of Washington, IL. was taken to the Knox County Jail and charged with the following:
Aggravated Fleeing and Eluding
Unlawful Possession of a Stolen Vehicle
Trespass to Rail Road Right-of-Way
No Valid Driver's License
Failure to Reduce Speed to Avoid an Accident
Disobeying a Stop Sign
Additional charges may be pending against ROYER.
The Illinois State Police Integrity Task Force is conducting an independent investigation into the Deputy discharging his duty weapon. The Knox County Sheriff's Departmental Policy requires the Deputy be placed on administrative leave while the shooting investigation takes places. Once this is completed, an Administrative Investigation will be conducted. The Deputy will remain on administrative leave until both investigations are completed.
Any future press releases will be made by the Illinois State Police, Zone 2 Investigations, East Moline. All inquiries should be directed to the Illinois State Police.