Employee Spotlight April 2018
---
Employee Spotlight April 2018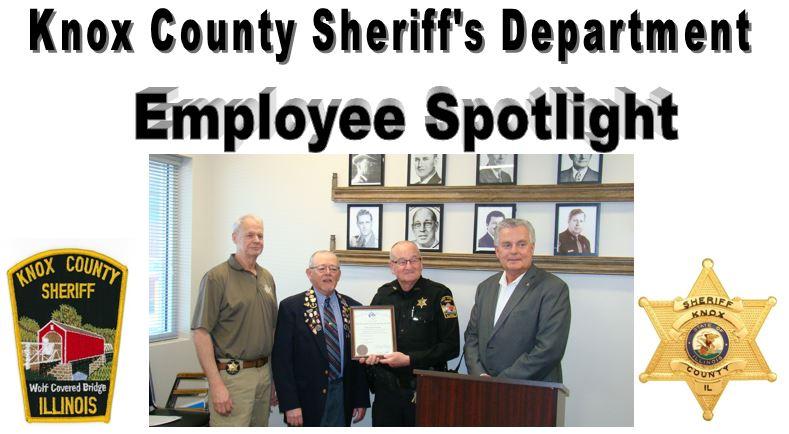 Deputy John Kennedy started his career with the Knox County Sheriff's Department as the Knox County Animal Control Officer on 11/19/01. Even as the ACO, Dep Kennedy quickly earned the respect & admiration of all the Deputies of the Sheriff's Department. He was self-motivated & enjoys getting the job done right.
Dep Kennedy has received many letters of thanks & appreciation from citizens & supervisors alike for the care he provided the animals he handled & the humans that were related to the animals. This care & consideration he showed his four legged friends quickly transferred over to the two-legged citizens he assisted on a daily basis in Knox County. On 6/30/07, he was transferred from Animal Control to Patrol where he continued to show his professionalism, motivation, & hard work ethic to earn the respect of his co-workers as well as his superiors.
With only a year on as a Patrol Deputy, Dep Kennedy was selected as the DARE Officer for the Knox County Sheriff's Department. He was able to form a very solid bond with the kids that he worked with. Many of the kids he tutored almost a decade ago continue to show the respect he instilled in them. He taught these kids that the right decision might not always be the easiest decision.
In 2014, Dep Kennedy was asked to be the first Knox County School Resource Deputy, which he accepted while continuing his responsibilities for DARE and assisting the Patrol Division.
Dep Kennedy has been nominated and/or selected as Deputy of the Month over eleven times during his career. He was selected as Deputy of the Year in 2012 and was selected for the James "Bud" Kelly Leadership Award in 2014.
Recently Dep Kennedy was nominated for the Order of Elks "Enrique Camarena Award", which is an award that is given to one person in the United States each year. He placed 5th in all the nominations that were submitted in 2017. On 3/30/18, Dep Kennedy was awarded the "Elks Distinguished Citizenship Award" for 2017-2018 from The Galesburg Elks Lodge #894 and the Grand Lodge, Benevolent & Protective Order of Elks.
---