KNOX COUNTY ANIMAL CONTROL
Knox County Animal Control Division
Knox County Sheriff's Department
152 S. Kellogg Street
Galesburg, IL 61401
Monday - Friday
8:00 AM - 4:00 PM
(309) 345-3735
After Hours, Weekends & Holidays:
(309) 343-9151
The Knox County Animal Control Division is responsible for maintaining Rabies Registration records, enforcing Knox County Animal Control Ordinances, investigating animal complaints and animal bites. The Animal Control Officer works closely with local Veterinary Clinics, Animal Hospitals, Shelters and Humane Organizations to ensure the safety of Knox County citizens and their pets.
The Knox County Animal Control Division is staffed by the Knox County Animal Control Officer, Administrative Assistant and a part-time Animal Control Officer.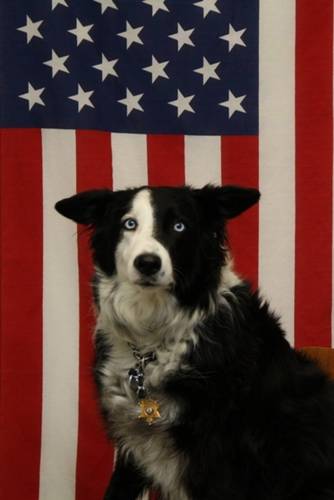 K-9 Deputy
Bonnie Blue Eyes
(Retired)
Rabies Registration Fees

Effective February 1st, 2011

Dogs

Cats

1 Year Altered

$10.00

1 Year Altered

$5.00

1 Year Unaltered

$20.00

1 Year Unaltered

$15.00

3 Year Altered

$25.00

3 Year Altered

$10.00

3 Year Unaltered

$55.00

3 Year Unaltered

$40.00
You Can Now Pay Your
Rabies Registration
and
Pet Ordinance Fees
Online
Rabies Registration Ordinance Fees
---
Animal Bites
If you are bitten by an animal, administer First-Aid by pouring cold, soapy water over the wound for 5 minutes. After a thorough washing, apply a clean, sterile bandage and seek medical attention to prevent further infection.
ALL animal bites are to be reported to your local Law Enforcement Agency.
The animal causing the bite must be taken to a veterinarian the same day as the bite or the next business day. The animal must be kept away from all non-immediate family members even if the animal has a current rabies vaccination. If your animal is not current on its rabies vaccination, it must be kept quarantined under the supervision of a licensed veterinarian for a period of 10 days and must be vaccinated before being released.
The cost of a veterinarian quarantine can be 6-10 times the cost of having the animal vaccinated in the first place. There are NO exemptions to the quarantine procedure if the victim is the pet owner or family member of the pet owner.

---
Knox County Area
Veterinarians & Animal Hospitals
ANIMAL MEDICAL CENTER

371 E. Carl Sandburg Drive




Galesburg, IL 61401


(309) 344-3900



liebsamc@centurylink.net




Pete Plescia, DVM

Christen Plescia, DVM

CARING HANDS ANIMAL CLINIC

1235 N. Henderson Street
Galesburg, IL 61401
(309) 343-3171 - Office
(309) 335-7639 - Emergency

caringhandsanimalclinic@yahoo.com

Alexandra Foster, DVM

GALESBURG ANIMAL HOSPITAL

1525 E. Fremont Street
Galesburg, IL 61401
(309) 343-9226 - Office
(800) 397-9226 - Toll Free

Greg C. Weech, DVM

Quinn V. King, DVM

KNOX PET CLINIC

658 W. Main Street
Galesburg, IL 61401
(309) 343-6156 - Office
(309) 342-1759 - Emergency

105 Public Square
Knoxville, IL 61448
(309) 289-6697

Harold W. Watters, DVM

Brian K. Siever, DVM

Megan Blackwell, DVM

VET CARE ASSOCIATES

502 S. 1st Street
Alpha, IL 61413
(309) 629-4851

Patrick Fairbrother, DVM

WILLIAMSFIELD VET SERVICE

111 E. Gale Street




Williamsfield, IL 61489




(309) 639-2255

Virgil Hockgraver, DVM
---
Private Humane Organizations