Knox County Snowmobile Search and Rescue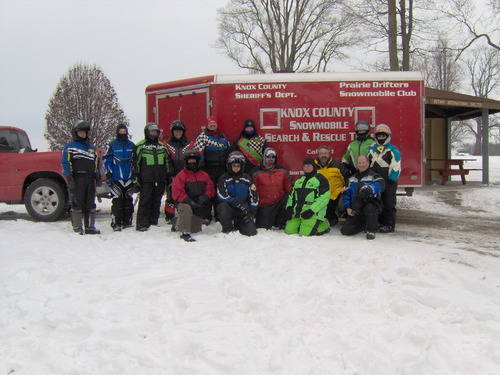 The Knox County Sheriff's Department Snowmobile Search & Rescue Team was organized in 2004 with the cooperation of the Prairie Drifters Snowmobile Club. The purpose of this team is to assist the Sheriff's Department during severe winter storms. The team is also associated with the Illinois Emergency Management Agency and this allows us to be requested from anywhere in the state of Illinois. There are currently 40 members that can be used during winter as well as summer search and rescue situations. Through grants from the Illinois Department of Conservation, we have been able to purchase the following equipment:
~Yamaha Snowmobile
~Rescue Boggan to carry patients behind the snowmobile
~Enclosed trailer to transport all of the equipment
~Honda Generator
~Radios
~Snowmobile suits boots helmets and gloves to be used by EMS personnel that are being transported to the scene.

The team is always looking for new members.
If you would like to join the Knox County Snowmobile Search and Rescue Team, you can contact Pat Hennenfent or Deputy Jacque Arthur. You can also click on the link below to pull up an Application, print it out and submit it to the Knox County Sheriff's Department.
Patrick Hennenfent: 309-368-0747
Deputy Jacque Arthur 309-345-3733
| | | | |
| --- | --- | --- | --- |
| | | Training Day | |
| | | | |

Additional Information
Snowmobile Rescue Application

Deputy Jacque Arthur
Pat Hennefent
Snowmobile Rescue Team